An overview of the Weather Forecast Optimized Point API endpoint and JSON data output.
Both of the Point APIs are used in similar ways, and both output JSON data in the same format, but there are some key differences between the two products.
Please note that the Optimized Point API and Point API are not the same thing.
To avoid repetition, this article will assume that the reader is already familiar with topics covered here such as a general overview of JSON data output.
Despite the same output format, the Optimized Point API does not offer the same bundle options as the standard Point API. For the complete list of the data variables currently offered in the Optimized Point API, please refer to the bottom of this article.
Why are there 2 APIs for point locations?
Data returned by Spire Weather's standard Point API, File APIs, and OWS/WMS API all comes from the same place: Spire's in-house global weather forecast model. Despite the different output formats (JSON, GRIB2, and WMS) each of these APIs convey information from a common source.
On the other hand, data returned by the Optimized Point API is the product of a different process. The system that produces this data is based on Spire's global model, but is optimized for fixed point locations by leveraging machine learning, multiple forecast systems, and local sensor sources. Since this process is dependent upon accurate, reliable, and well-maintained weather stations, Spire is very selective about the local sources it uses.
Airports all over the world are required to operate such stations, and are held to a very high standard of quality assurance. Without accurate observations of current weather conditions, every flight could potentially be at risk. This is why the Optimized Point API is initially only available at locations with airports or well-known weather stations - to ensure the highest possible quality of information available.
Maritime ports and qualified custom locations are also on the product roadmap.
Global Coverage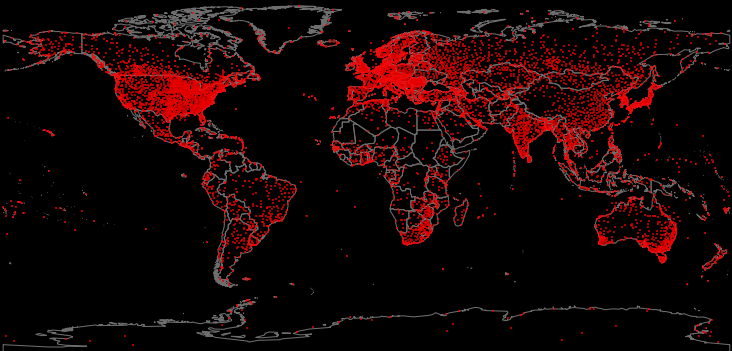 This map shows the locations (~10k) where optimized forecasts are currently available.
How are Optimized Point locations specified?
Rather than latitude and longitude inputs used in the standard Point API, location inputs for the Optimized Point API are string values representing either an ICAO airport identifier or a WMO station identifier.
ICAO: International Civil Aviation Organization

ICAO airport identifiers are four-letter codes representing aerodromes
Examples:


RJTT - Tokyo Haneda Airport (WMO: 47671)
OMDB - Dubai International Airport (WMO: 41194)
KLAX - Los Angeles International Airport (WMO: 72295)
YSSY - Sydney Airport (WMO: 94767)
WMO: World Meteorological Organization

WMO station identifiers are five-digit numeric codes representing weather stations
Examples:


68368 - O.R. Tambo International Airport (ICAO: FAOR)
03772 - London Heathrow Airport (ICAO: EGLL)
54511 - Beijing Capital International Airport (ICAO: ZBAA)
72530 - O'Hare International Airport (ICAO: KORD)
Example Input:
https://api.wx.spire.com/forecast/point/optimized?location=KJFK
https://api.wx.spire.com/forecast/point/optimized?location=74486
Output (JSON):
Available Data Variables
As mentioned previously, the data bundles offered for other API endpoints do not apply to the Optimized Point API.
Here is the complete list of data variables currently offered in the Optimized Point API:
Air temperature (2m)
Dew point temperature
Relative humidity
24-hour maximum temperature
24-hour minimum temperature
24-hour probability of precipitation
Surface wind speed & direction
Surface visibility
Cloud cover percentage
1,3, and 6-hour quantitative precipitation
1,3, and 6-hour probability of precipitation
Conditional probability of rain/snow
Conditional probability of ice/freezing rain
Probability of fog
Probability of thunderstorms