Introduction
Welcome to the Spire Bridge portal, affectionately known as Spire Bridge. This guide will help you navigate through the products and features hosted in the portal. Please note that this guide is intended to allow you to begin exploring Bridge, and is not intended to be deep technical documentation.
This guide is broken down by Spire Bridge features and our larger scale product, Spire Analytics.
Additional information can be provided by your sales representative, customer success manager (olga.kadeshnikova@spire.com), or the product manager (max.abouchar@spire.com).
BRIDGE FEATURE:

Home

By default, the home page gives API usage information for the logged in customer. Showing aggregated logging information for our two main Maritime APIs: Messages API and Vessels API. The graphs and KPIs are intended to help customers manage their usage and use our APIs efficiently.

Note: the Home Page might be a little slow to load. That is normal! And if the Messages API or Vessels API section is blurred out, it means you do not use that particular API, so there are no results returned.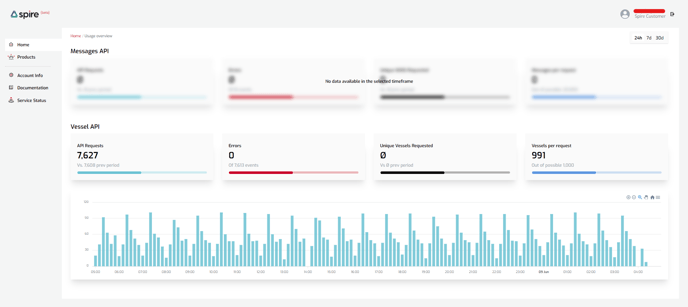 SPIRE PRODUCT: Analytics
Spire Analytics is Spire's premiere data visualization and exploration tool that allows you to see events-based data for vessels arriving and departing ports throughout the world as Spire records their data via our comprehensive nano-satellite constellation.
Spire Analytics significantly improves the time to value for Spire data by allowing users to visualize events and filter on specific vessels in order to see the parts of the global maritime industry that most relate to their use cases without the need to allocate development resources.
More information about the Spire Analytics product can be found in the Spire Analytics - Getting Started Guide.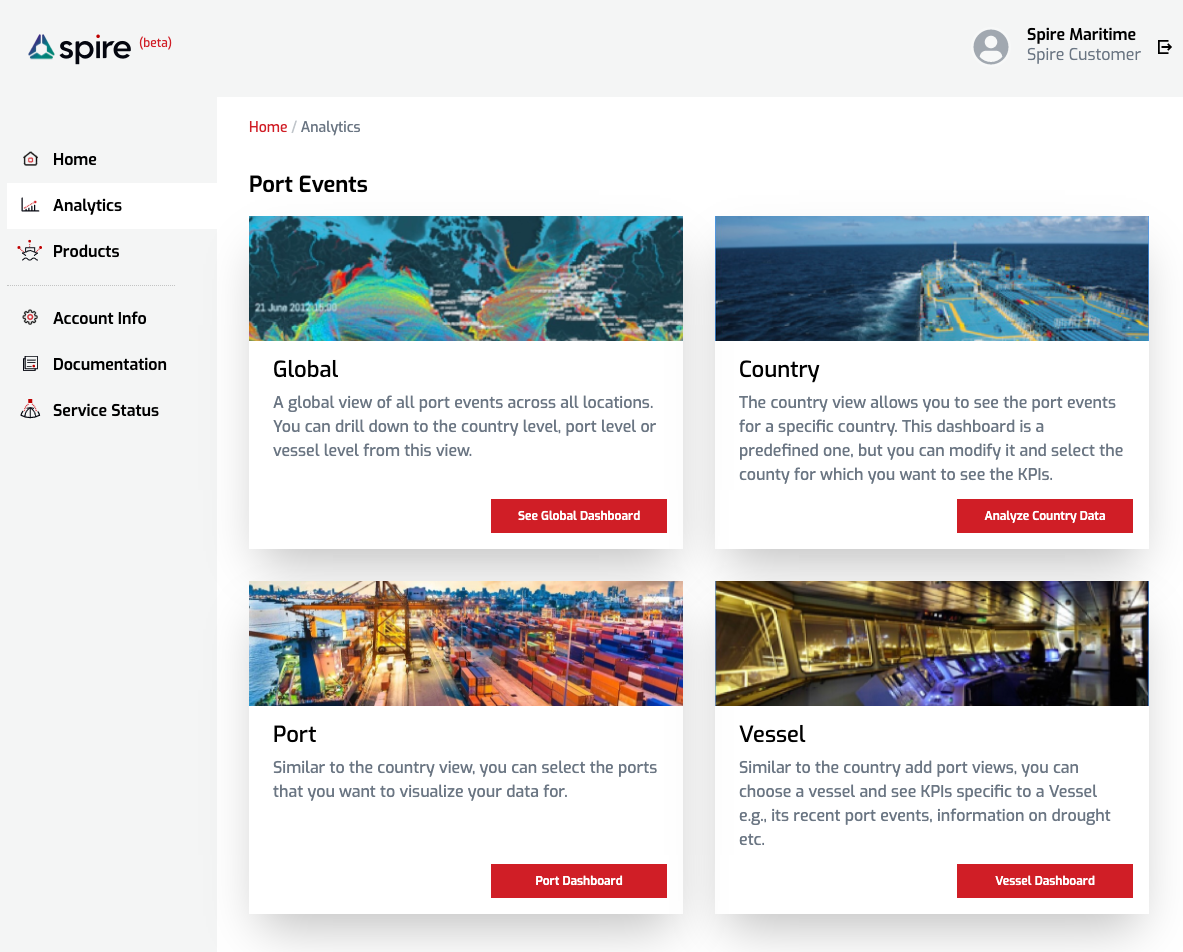 BRIDGE FEATURE: Products
The Products section includes links to information on other products and business units at Spire, as well as links to demo tools to see how other products and features can help your business.
As our products and business units grow at Spire, we will continue to maintain these helpful links so that all customers can stay up to date on the latest information.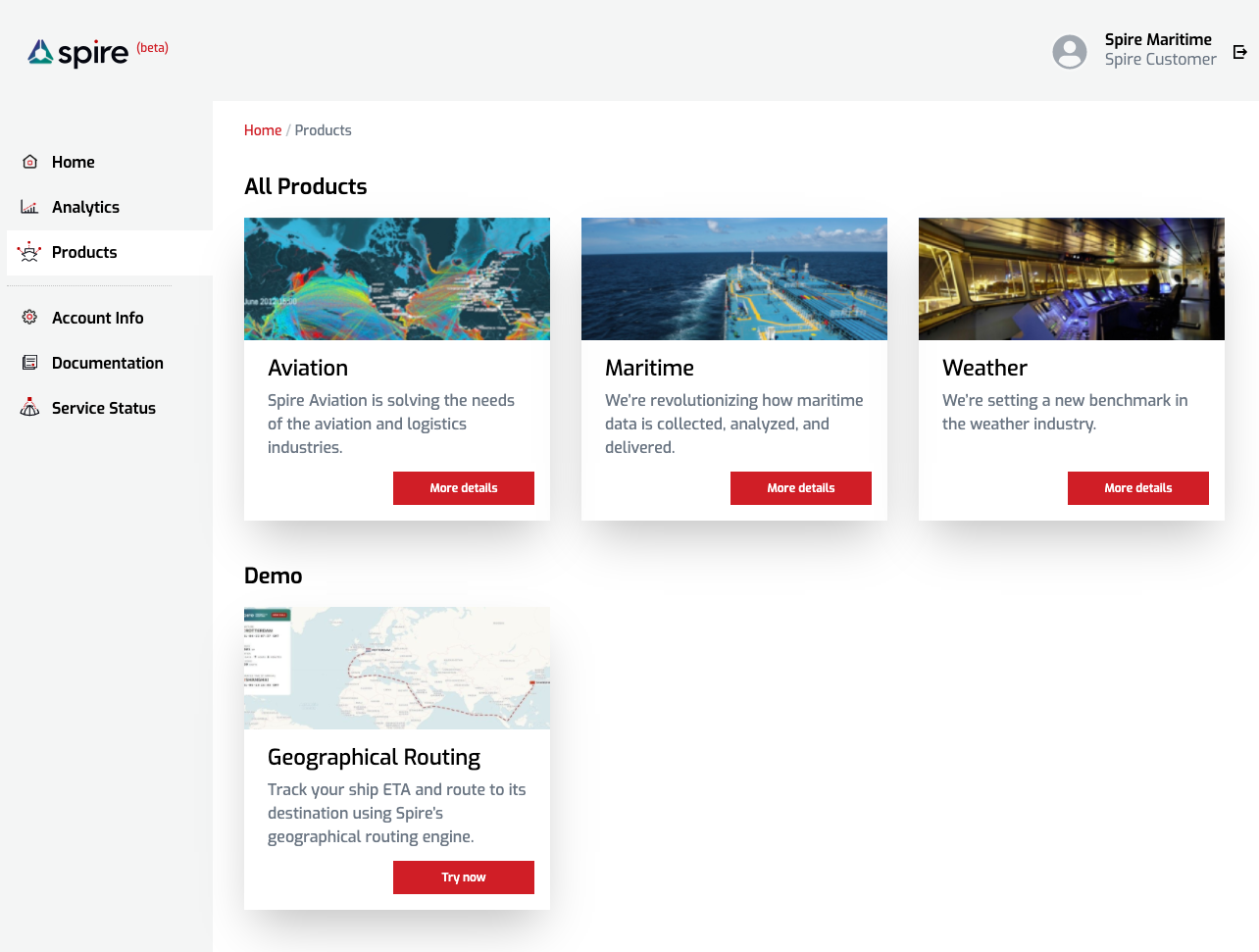 BRIDGE FEATURE: Account info
This is where the information on your current Spire access is saved for easy reference. For example. commercial information ,such as what data you have access to, as well as the specific information for your contract and the corresponding token(s) will be located here.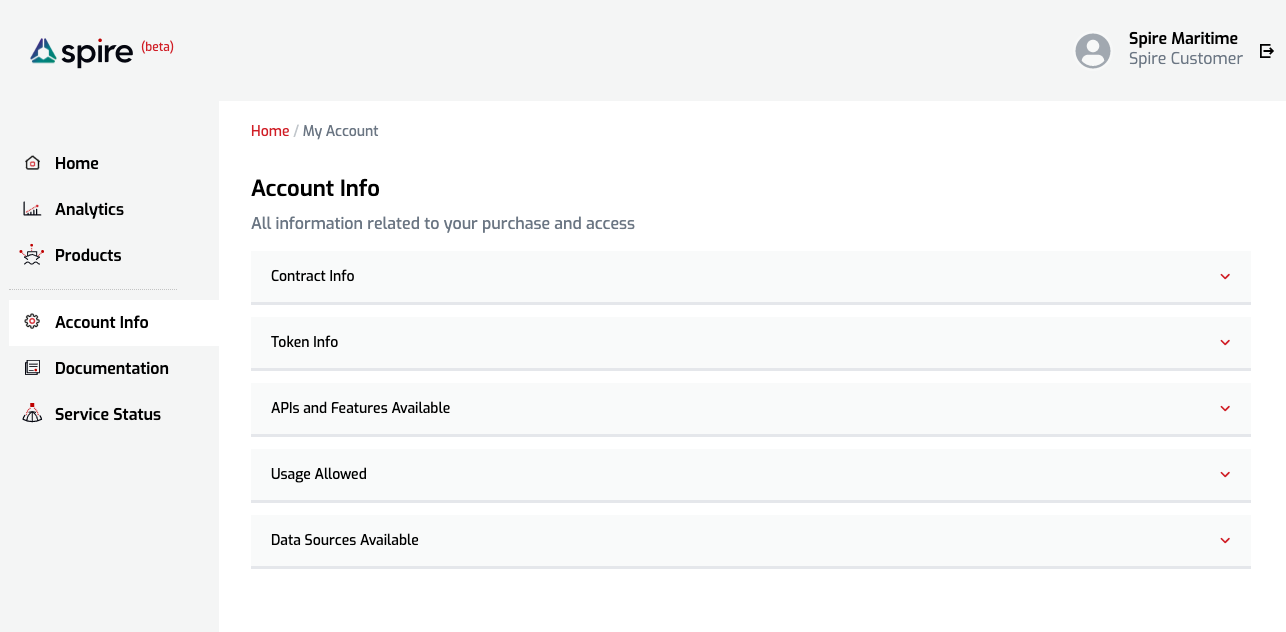 BRIDGE FEATURE: Documentation
Contained within the documentation page is our API documentation, our "Review our Answers" (also known as FAQ) page for common customer questions and solutions, a link to API trial access, the status page for our APIs, and our support form.
Our API documentation contains the technical documents for our APIs and data fields.
The Review our Answers page is a link to our FAQ which contains helpful information on common questions and usage of our APIs and our data.
The API Access page allows you to get trial access to our APIs.
The status page shows the status of our services.
The Contact Support page links to our support form for all product related issues.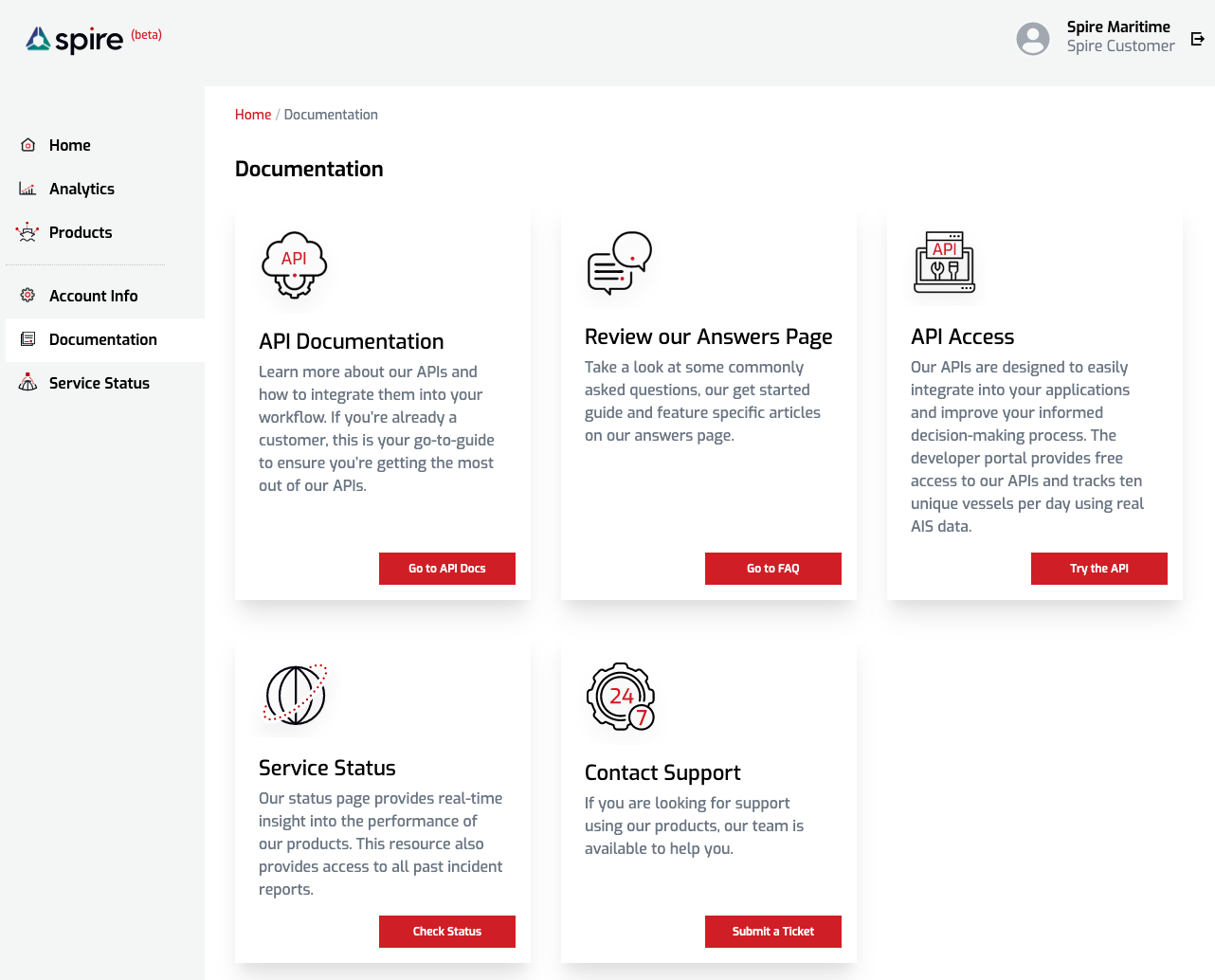 BRIDGE FEATURE: Service Status
A direct link to our service status page. It's highly recommended to all API customers to subscribe to the service status page so that they are alerted to any degradations.